Growing your following on digital streaming platforms like Spotify is indispensable in today's music business. Whether you're an artist, band, or record company, Spotify remains one of the top platforms for showcasing new music. 
Spotify claims to be the land of opportunity for emerging musicians, and rightly so. The platform is one of the best ways to increase your followers online and get more exposure. 
But like everything else, gaining followers and making your music popular takes some time. 
We know the music industry is tricky to navigate, especially now, with so many digital streaming platforms emerging. 
This guide offers the best tips for getting more Spotify streams. Following these tips will ensure that your music reaches out to more people and you get more followers on the streaming platform. 
Top Tips on How to Get More Streams on Spotify
Here is our pick of the top tips to give you more streams on Spotify.


1. Claim your Spotify for Artists profile
Becoming a recognized Spotify artist through Spotify's in-app artist service is the first crucial step to increasing your overall number of Spotify streams.
Through a 'Spotify for Artists' account, you can:
Set up a personalized profile on Spotify: Your profile talks about you, your music, and any upcoming shows, releases, or projects 
Add a Bio and Profile Picture: Introduce yourself to the Spotify audience with a nice bio and an appealing picture.
Pitch your unreleased songs to the playlist curators on the Spotify editorial team.
View thorough analytics and streaming data about your listeners and the success of your music.
Acquiring a verified blue checkmark on the profile so that your fans and Spotify can make out that you are the real deal. 
Utilize marketing resources, such as news about brand-new artist features and practical guides for app users. 
All these advantages will serve as essential stepping stones in your effort to develop an audience on and off the platform. Consequently, you will get more streams and even more followers. 
2. Create an Impressive Spotify Profile
Once you've claimed your artist profile on Spotify, you must use all premium features available.  
Here are a few tips for creating an artist profile that is more likely to catch listeners' eyes. 
Your profile should have: 
A compelling artist bio
A good-quality profile picture
Links to your social media pages
The cover art of your music/songs
An 'Artist's Pick' pin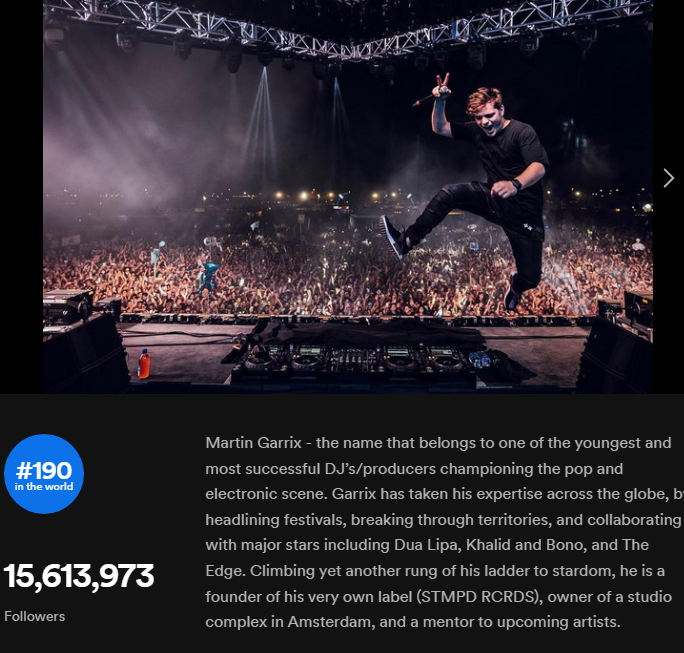 Martin Garrix his profile has a great biography & high-quality photos.
Consider Spotify to be another one of your social media accounts. The purpose is to share your creativity while attracting as many eyeballs as possible.
Aside from the listeners, if you want to capture the playlist placements, "fans also like" features, and more, you must consider Spotify's algorithm. That means updating your account consistently to prove to Spotify that you are an active user. 
3. Create and Grow your Playlist
Start creating your playlists for the quickest approach to increasing streams and followers. Be proactive, inventive, and in charge of your playlists based on your releases. An essential benefit is that it allows you to share your music, swap tracks with other curators, and grow your presence.
Think of it more as a long-term strategy. That's because creating your playlist a few weeks before launching your music won't result in too many streams.
Here is how you can grow your Spotify Playlist
Create a niche-specific playlist
Play your music frequently
Focus on playlist sharing in relevant Facebook groups
Give more opportunities to your fans to listen to your playlist
Share your playlist on Reddit
Create a network by reaching out to user-created playlists
The only playlists on Spotify that you can contact about adding your music to are user-created. This is because individuals like you and I made these playlists.
However, if you place your song(s) on enough of these playlists, you can help Spotify's algorithm to add your music to playlists of different genres.
Here is a brief explanation of how this tip works:
Define the characteristics of your music
Search user-made playlists matching the characteristics defined 
Find the creators of these playlists on Facebook. Send a request message asking them to listen to and add your music.


4. Develop your Brand
Creating a great 'brand' image is crucial for music artists, particularly on social media, to get more streams on Spotify. Verify your artist status on Spotify and submit your graphic charter/press photos for a professional-looking profile.
5. Contact Music Blogs
You also want to attract new audiences and turn them into your biggest supporters. The best approach to do this is through music blogs. Message music blogs to feature you as an artist. Once your music appears on a popular blog, readers who already like your genre of music will undoubtedly listen to what you create.


6. Support other Artists
Sharing is caring. But on Spotify, it also means promoting your music. So share and support the music and playlists of other artists. Follow the musicians you adore so they know you are participating in their promotion. Most of them will return this favor. 
7. Don't Overlook Email Marketing
Email marketing is more affordable because you must have an advertising budget on social media networks to connect with your followers. Unfortunately, many of these platforms can also ban or block artists without any apparent reason or explanation.  
Email offers the best and easiest way to stay in the minds of your audience. Even if they don't open your email, they can still see your name in their inbox. 
So, growing an email list is crucial before you release any music. One of the best ways to build an ever-growing email list is to sign-up for an email autoresponder. Using this tool, you can automate email replies as it sends a scripted response whenever a user takes action. For example, confirmation and thank-you email messages. In addition, you can send emails to many recipients using an email autoresponder tool without contravening anti-spam laws. 
Another popular way to grow your email list is to offer a giveaway in exchange for an email address. For example, an alternate version of your son or a Spotify pre-save. 


8. Link to your Spotify account
Remember to share the link to your Spotify account by copying and pasting the Spotify Follow Button widget HTML. You can embed this link to your webpage and social media page to push more traffic to your Spotify artist profile.
Additionally, Spotify will let followers know when you perform in their area or release new music. That's a simple way to increase visibility and streams.
Spotify Codes are 'scannable' tags that resemble QR codes. You can create Spotify codes for playlists, songs, albums, and brand profiles. Another benefit of these codes is that you can distribute them virtually anywhere, such as on social media or websites. In addition, the Spotify app features a built-in scanner to allow users to scan the codes and get more information. 


9. Promote your Content
Start marketing your upcoming release (single, EP, or LP) at least a month before its launch. 
Make sure you have enough time to discuss your new song with your audience. Let them know how and why you created or produced this piece. 
At least a month before the release, generating buzz about your upcoming music excites people. So even if you have a small list of followers, build some hype to keep your fans waiting for your new songs. Consider this buzz-building time as a 'pre-launch' phase. 


10. Ideas for Pre-Launching your Content
How should you promote your music on content channels and social media during the pre-launch phase? Brainstorm different ideas to address your next song's 'how, when, what, where, and why.' You can create short promos, blog posts, and press releases or update your social media pages to address these questions.
What musical instruments did you use to create this song?
What is the song about? Why is it so crucial for you?
Why are you making this song available? 
How much time did it take to produce or create it?
Which studio did you use for recording the song?
What issues or challenges did you face?
What is the inspiration (if any) for the song?


11. Create A Pre-Save Link
A Pre-Save Link: What Is It?
Users can add a song or an album to their queue before its release using Spotify's pre-save link.
This is beneficial since it will raise the possibility that your followers will play your music on the release day. The more streams your music gets early on, the better. You can make your song more popular by activating the Spotify algorithm and receiving many streams on the release day.
A high stream count on day one is important because it allows Spotify to acknowledge that your music is worth showing to other users. Here are some ways the platform can share your music:
Official playlists by Spotify
Email notifications to your followers
Algorithmic playlists (Discover Weekly and Release Radar)
This indicates that stream volume is one of many variables you should target. Stream 'velocity' is also crucial, which denotes the number of streams you receive quickly. Consequently, you will gain more followers, fans, and streams to surpass your goal of one thousand streams. 


12. Offer a Giveaway
Another popular way to promote your music on Spotify, especially if you are an emerging artist, is to offer giveaways. For example, if you want to avoid asking your followers to 'pre-save' your music,  ask them to 'stream' it. Then, offer them a giveaway as a token of thanks. 
Some popular ideas for these rewards and incentives include: 
Giving a shout-out to some of these followers 
Giving a live performance
Releasing a B-side
Playing a song of their choice
Playing an acoustic version of the song
Giving your store a temporary discount
Ask your fans about what the perfect giveaway should be 
Some artists also reward special prizes to fans who stream their songs the most over a certain period. 
Use your imagination to get creative with more ideas, according to the nice of your music and your fan preferences. 


13. Ask Your Distributor for Help
You may sometimes overlook it but asking about your distribution is a great way to get more streams in case you run a Record Label. This tip can give you excellent results regardless of your chosen streaming platform. That way, you can get impressive results. Make sure you choose a reliable digital producer for distributing your music. Spotify frequently contacts these distributors for an update on the appropriate releases to feature, out of the enormous volume of releases a distribution company delivers daily. 
Are you struggling to find a proper music distributor? Our article about music distribution may be useful for you!


14. Use Spotify's Anchor Feature or Create a Podcast
The easiest way to make a podcast about your music on Spotify is through 'Anchor.' This feature allows users to host their podcasts and distribute them to their favorite listening platforms. That way, they can grow their audience and monetize the episodes from any device. The best part is that it is entirely free. 
Spotify supports audio and video podcasts, so you can easily tap into different and new audiences. In addition, podcasts allow artists to boost audience engagement and form meaningful connections with their followers. 


15. Use Your Social Media Pages for Promotion
Social media is one of the most effective mediums for musicians to promote their music. Promoting your music, interacting with fans, and growing your fan base requires a solid social media presence.
Set up your account on Spotify, promote your music, and interact with fans on all your social media accounts. Sign-up for all popular social media platforms like Facebook, Twitter, Instagram, SoundCloud, and others.
Here are some pointers on how to get more streams on Spotify, using social media 
Post links to Spotify playlists and new releases. Encourage your fans to listen to your music and follow you on Spotify.
Create a Spotify Code and post it in blog posts or guest posts. Fans can scan a Spotify Code with their phone, like a QR Code. It's an efficient way to share or access Spotify music.
Keep fans posted about your most recent songs, future performances, a new music video, and everything else. 
Share your music-related experiences, photographs, production tips, etc. That's a great way to establish your authority in your niche. Develop a bond with your followers.
Participate in discussion groups on Facebook and Reddit, where artists can get guidance from other musicians.
Use direct marketing strategies. Then, monitor the streams, interactions, and feedback to determine which tactics work best.
Posting a link to a page on Facebook generates a 30-second preview. Facebook Stories allows for the sharing of 15-second video clips. Fans can listen to the complete song on Spotify after tapping the preview to access it.
You may share Spotify playlists, albums, artists, and tracks on Instagram stories with your followers.
Interacting with your followers and letting them know you appreciate them is crucial. Use social media for more than just promoting your music and sharing upcoming performances. Utilize these channels to communicate with your followers. 
Final Thoughts
The music industry is evolving, thanks to music streaming. Spotify is the most influential place online to promote your music and expand your fan base. Initially, it can be challenging to guarantee too many streams. However, as you learn to nurture your songs and engage with your audience, you can enjoy a successful Spotify journey. Avoid purchasing plays or follows if you want to interact with real people.
If things are too slow and success is challenging, keep hope. Instead, keep releasing great music and stay active online. The rest will come naturally. 
If you want to take your Spotify journey to the next level, submit your song to GetPlaylisted. We will start pitching your song to the relevant playlists and select the best genre according to your song's music arrangement and mood. Get in touch today to learn more about how to get more streams on Spotify.